Welcome to WSET WeatherCall ToGo – the mobile weather app that monitors YOU for possible dangerous weather, not the other way around.
The original WeatherCall personal severe weather warning notification system, trusted by hundreds of thousands, is now available in a MOBILE version. WeatherCall ToGo is a web-based program designed to optimally perform on iPhone and Android smartphones.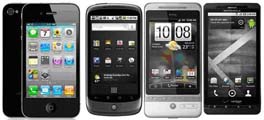 Using the same technology as the original WeatherCall system, WeatherCall ToGo monitors the self-reported location of an iPhone or Android smart phone and delivers a warning call and/or SMS text if the phone is within 1 mile or less of a National Weather Service (NWS) warning area. If the user turns the application during an extended period of pleasant weather, the WeatherCall system will send a "reminder SMS" the next time the National Weather Service issues a warning for within a 30 mile region of the phone's last reported location. In addition to NWS warnings, optional lightning notification is available on WeatherCall ToGo if the smart phone's location is within 6 miles or less of lightning strikes.
Keep WSET WeatherCall ToGo open in the phone's web browser allowing it to continually report its location, and forget about it. If you come within a mile of a warning area, or if lightning strikes within 6 miles of you, your phone will notify you with either a phone call from Chief Meteorologist Sean Sublette, and/or via an SMS text or email with specific information, including a map of the warning area and an "all clear" when the threat is no longer in effect.
Subscription Costs
WeatherCall ToGo: $11.95 per year
Activate the application on a smart phone's web browser and the current location is reported once every minute to the WeatherCall system. When a phone comes within 1 mile or less of a NWS storm-based warning a warning call and/or SMS text will be made to the phone. The full text of the warning can be accessed, and the specific warning area can be viewed on a Google map.
WeatherCall ToGo Lightning - Real-time lightning strike monitoring: $11.95 per year
WeatherCall Mobile Lightning has detected a cloud-to-ground strike within 6 miles or less of the smart phone's current reported location. Suspending activities NOW is recommended.
WeatherCall Plus: Bundle NWS and Lightning Notifications: $17.95 per year
Save money with a bundled service, delivering the ultimate peace of mind if you're outdoors when storms are brewing.
How to sign up for the service
Step #1: Test your phone's compatibility.
WeatherCall ToGo performs optimally on iPhone and Android platforms. However, newer smartphones with GPS functions may also be compatible. To determine if the application will work on your smartphone, perform this simple compatibility test before signing up. Open your phone's web browser and type in www.weathercall.net/mobileapptest. Follow the instructions. If your phone is compatible, proceed to Step #2.
Step #2: Sign up on this web site OR from your smart phone's web browser:
Click on the Sign up now button below and follow the instructions OR type in www.weathercall.net/mobile/wset on your smart phone's web browser.


Step #3: Log into your new account on your smartphone.
Step #4: After you've saved your settings bookmark the WSET WeatherCall ToGo home page. This will place an icon on your phone's main screen. Simply touch the icon to use the service. You will not have to enter your log in information again.
Important tips
The application must be running in your browser window for it to be proactively monitoring you. The Regional Reminder choice will send you a text if warnings are issued within 30 miles. WeatherCall ToGo continuously monitors your phone's last reported location for dangerous weather.
The incoming phone number with a WeatherCall notification is 1-866-479-9906. Please save this number and name it so it will display on your caller ID as an incoming WSET WeatherCall weather notification.
If you have questions or need assistance, please e-mail info@weathercall.net and put ToGo in the subject line.